The original and official double Royal Dragonfly Book Award SM award-winning book by Lisa Loucks-Christenson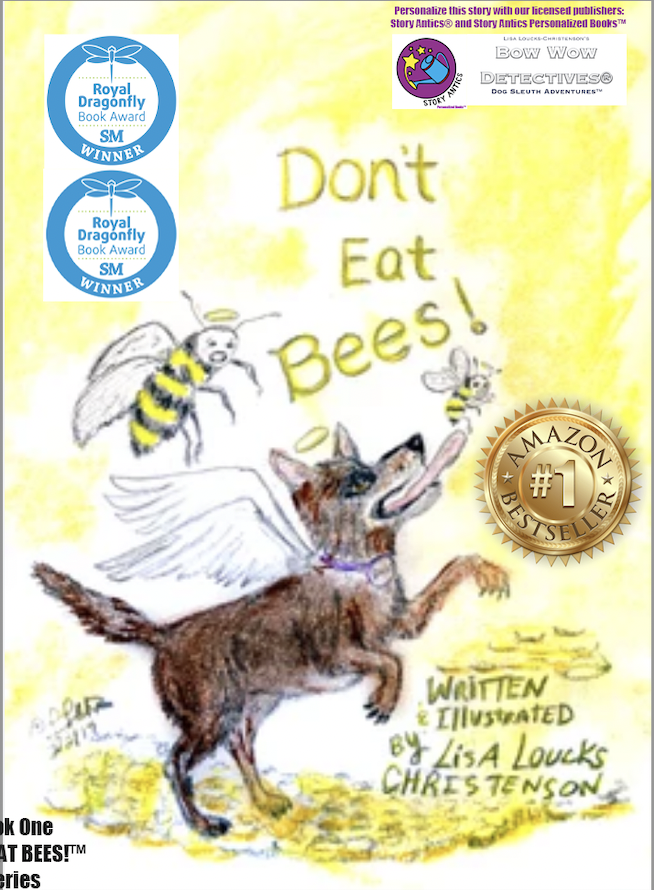 Don't Eat Bees! #1 Hot New Release and Amazon Bestseller, Winner of two
2020-Royal Dragonfly Awards, for Best Illustrations and for Picture Books Ages 6 and Up
THE ART OF DON'T EAT BEES! $65
DALE & IBBY Comic
HEAVEN CAN REST! Book 2, DON'T EAT BEES¡™ series
DON'T EAT SKUNKS!
DON'T EAT CATS!
DON'T EAT ROAST! and more
The art cards, merchandise, and products are available in stores carrying
the Lisa Loucks-Christenson Product Line.
CALL TO ORDER: (800) 928-2372 Toll Free USA
Lisa Loucks-Christenson's award-winning story about the heart of a dog!
Lisa Loucks-Christenson's DON'T EAT BEES!™ Series is published by Bow Wow Detectives®
DON'T EAT BEES! is licensed to Story Antics® personalized and published by the Story Antics Personalized Books™ division featuring our new customers and established clients' dogs that match names in our names database. Further customizations are available to the story but only available time basis. Simply call us to discuss your idea.
Don't Eat Bees!
Written & Illustrated by Lisa Loucks-Christenson
In loving memory of Dale Bernard Von Smaragdhügel
Born: 9/11/2004
Died: 2/02/2019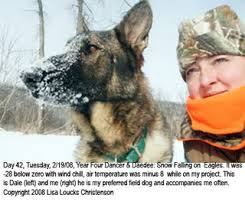 Photo: ©2008 Lisa Loucks Christenson | Dale and Lisa in the field on Lisa's Bald Eagle Documentary
Don't Eat Bees!
Don't Eat Bees! is the author's literary tribute to Dale, her real bee-eating, German Shepherd.
Lisa trained Dale to sit for hours in the woods alongside her, while she worked on her bald eagle documentary (above photo). Dale learned how to unzip her bag and get his own water bottle. Why drink the creek when spring water is readily available in Lisa's work a bag? Once, he had to retrieve her hat that he'd sneaked off with and left in the woods––a half mile away at their last stop. On Dale's 14th birthday, Dale didn't snap up his steak, he knew not to touch his t-bone steak sitting on the plate at his feet until Lisa was ready to take his picture. Lisa says that Dale could be trained to do anything that didn't interrupt his favorite pastime of chasing and snacking on bees. Dale was never stung.
Don't Eat Bees!


Dale, the bee-eating German Shepherd hits bee-gold when he unwittingly snatches up a tasty queen
!
The queen's sister (a retired queen bee, herself) offers Dale the deal of a lifetime and beyond––if he'll free her sister. Dale accepts the deal, but can the foolhardy dog give up his bee-eating and chasing habits, forever, 
and keep his heavenly reward?



Written and Illustrated by International Award-Winning Author and Illustrator Lisa Loucks-Christenson
To order:
(800) 923-2872
Sold Exclusively at in-network stores (and the ebook is on Amazon from time to time)
https://www.peacockbookswildlifeart.com/collections/all/products/dont-eat-bees
The sketchbook is created in original black and white pencil illustrations, the art for the book is created in pastels by Lisa Loucks-Christenson
Publisher: Bow Wow Detectives® | Childhood & Lifetime Books™
©2015-2022 Lisa Loucks-Christenson IP Holdings ALL RIGHTS RESERVED